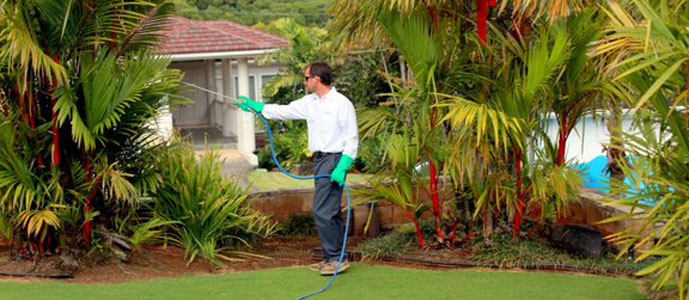 Landscape Pests
Landscape pest control is what helps set us apart from other companies that treat only for structural pests. These pests include white flies, mealy bugs, and aphids. We often find areas with mature vegetation like Kailua or Honolulu have more plants that have these landscape pests. Newer home areas such as Ewa Beach and Mililani have newer plants that can be much more suceptible to invasive plant pests.
Because these pests can sometimes require weekly service, we treat when we come out for the regular pest control service as a secondary treatment to help control ants. These ants feed on these landscape pests waste in a symbiotic relationship.  helping to control the ants will help control the landscape pests and vice-versa. Although we cannot guarantee control of landscape pests since they often need more frequent, cost prohibitive service to many customers, we will treat plants under waist high on our regular services.
We figure, while we're out, it does not take much longer to help take care of those pests when we are there to do your regular pest control service. Because some landscape pests require more frequent treatment, any additional treatments besides the regular pest treatments will be an additional charge.
Most pest control companies do not cover landscape pests because they lack the proper licensing to do it. Instead of having to hire a separate company and be double-billed, let us take care of all your pest needs in a single service.