There are a variety of pests that may be pooping in your kitchen cabinets, drawers, closets, attic, and about anywhere else you can imagine in your home. Let's take a look at some of the most common pest poop in Hawaii:
Termite Droppings
We have 7 different species of termites in Hawaii, but the most destructive to our homes are the drywood and ground termite.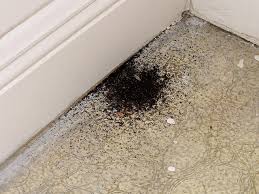 Drywood termites are the kind that actually have droppings show up falling out of their kick out holes, as seen in the picture.They push individual droppings out of their colony one at a time. They do so through what is called a "kick-out hole," which is about the size of a pin prick. As they push out a dropping one at a time it will form what looks like a neat pile of sand just below the kick-out hole.
Drywood termites are often mistaken for either dust and dirt build up or sometimes there's a occurance of "ant graveyards" that show up when spiders feast upon big headed ants in your home. It is the only species of ants that causes these ant graveyards, But it's interesting that they'll show up in areas where these big headed ants have sometimes pushed dirt out from their colonies in the wall that they build up.
Drywood termite droppings can be on a color spectrum from black to a very light tan depending on the type of wood being eaten.  On occasion, they can be a combination of brown and black.
Bedbug Droppings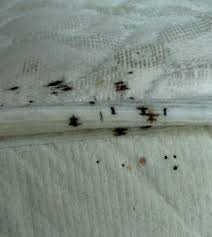 I'd almost rather have termite droppings than bedbugs. These nasty bugs are very difficult to control because of re-infestation from the original source, which is often difficult to determine. You will know you have bedbugs when you have blood stains on your mattress or sheets. Sometimes the first indication are bites, which a doctor can help you identify.
Bedbugs feed off humans like fleas feed on cats. For this reason, the most common place to see bed bugs is on a mattress, bedframe, box spring, and sheets. You will most commonly find bed bug fecal matter, eggs, and nesting sites in the seams of the mattress. However, bed bugs can live in picture frames, electrical outlets, baseboards, couches, and furniture crevices.
Although they are not vectors of disease, they can cause skin irritation and can quickly produce an unappealing environment. Although Waikiki has traditionally been a bedbug hotspot, we have found cases in homes from Hawaii Kai to Pupukea. Bedbugs are so invasive, that they take much more thorough treatment than most pests. Many exterminators won't even deal with them because they're so hard to control.
A big part of control has to do with catching the infestation early. Bedbugs generally will be introduced into a structure through luggage, used furniture, or from storing or moving your belongings in an infested truck or container.
Gecko Droppings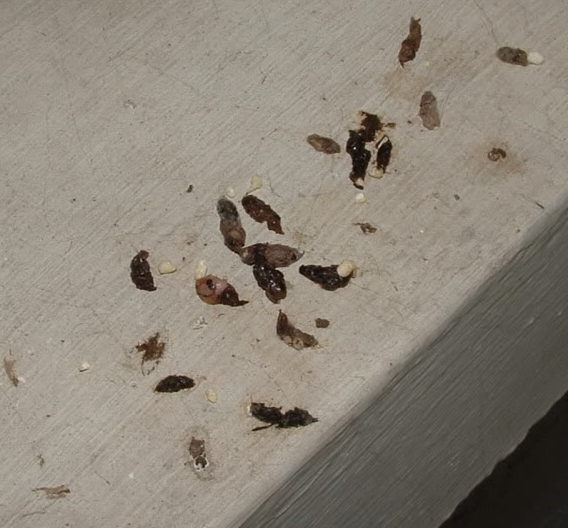 Geckos can be helpful for pest control for some of the harder to control flying pests. They're usually found outside near lights that attract flying bugs at dinner time. You'll often find droppings in this area, but sometimes you'll find them in other areas of the house, especially in open beam ceiling homes were there's no ceiling to catch these bombs (so to speak).
Gecko droppings by the shape, size, and color. They can be the same size as mouse or even rat droppings, which can be of concern to people. However, except for the aesthetics, gecko droppings don't have the same diseases that can be present in the poop of rodents. Gecko poop is brown, elongated, and about 1/4 inch in length and about 1/8 inch in width. The identifying characteristic is the urea cap, which gives the dropping a white tip.
German Roach Droppings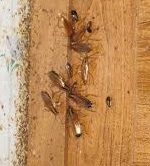 German roach droppings look like a group of small black specs in cracks, corners, and crevices. You'll find them particularly in places that roaches like to live and forage. German roaches carry a trait of thigmotropism, meaning that they are responsive to touch and like to wriggle into tight spaces feeling pressure surrounding each side of their body. Like most bugs they are also attracted to areas with moisture. Due to thigmotropism and their attraction to water you will find roach droppings most often in cracks and crevices of the kitchen and bathroom. Tight spaces around the dishwasher, cabinetry, stove, and microwave are some of their favorites.
American Roach Droppings
747's, brown eagles, and the Hawaii state bird are a few of the nicknames for this pest. They're known by their common name American roaches. They are big brown roaches seen crawling and flying around Hawaii. They can be an inch to 2 inches long and are uniformly brown in color with a very light tan stripe across their thorax.
Fortunately, they don't infest inside homes too much. Unfortunately, they will come inside your home from the outdoors and sewers where they breed. They can fly in or crawl through cracks around windows and other entry points.
American roach droppings are surprisingly big and are sometimes mistaken for mice droppings. It is important to know the difference. American droppings are brown or black cylindrically shape with ridges and blunt ends. Whereas mice droppings have the appearance of black rice with pointed ends. The roach droppings may have the appearance that they have been chopped up.
Rodent Droppings

Mice and rat poop are clear signs that you might have a nasty rodent in your home. They have a similar appearance, but they can be distinguished by their size the shape of the ends. Mice generally have smaller sized black droppings with tapered and pointed ends resembling like a grain of black rice. They are about 1/8 inch in length. Rat poop may be up to twenty times the mass of mice droppings. Rat poop can be 1/2 to 3/4 inch long and about 1/8 inch in diameter. They generally are a shiny black or dark brown color with pointed (Norway Rat) or rounded (Roof Rat) tips and are fatter than mice poop with a slight bulge in the middle.